This evening I had enormous messy fun performing as 'The Goddess Of The Chocolate Pigs' in Chapter 5: THE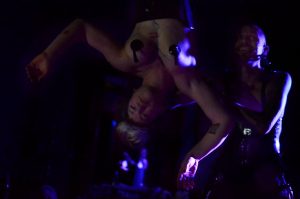 HYPNOTISING DANCE OF THE CHOCOLATE PIGS of this decadent experimental performance art piece titled, 'ANUS my asshole is a nightmare', the last piece of a trilogy.
Borbála Szente is an experimental artist in the field of performance and body art, born in Hungary but based in Berlin for the last 7 years. I first met Bóbala on my 2014 visit to Berlin and was asked to participate in the first piece of her trilogy 'The Great Vagina Show'. Both possessing 'out of the box' creativity, take pleasure in shocking people and a wicked sense of humour…I knew that we'd become firm friends. And we're both very loud when we get together!!!
 Check out Borbála Szente's website to see the professional images taken on the night. Also worth while having a look at her past projects but be warned it's not for the faint hearted!
http://www.borbalaszente.com/#!anus-my-asshole-is-a-nightmare/c11p9
Pro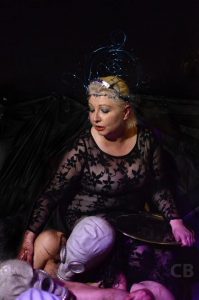 gram For The Performance.
FIRST PART
Chapter 1: RELATE TO YOUR BUTT
WE will bring up some memories to understand that in the ass we are united.
Chapter 2: THE SPACEMONKEY AND ETERNITY
Is it possible?
Chapter 3: KAVIAR ON HUMANPLATE
Songwriter dinner for weirdos.
Chapter 4: ANUS AS THE MIRROR OF YOUR SOUL
is not the eye
Chapte r 5: THE HYPNOTISING DANCE OF THE CHOCOLATE PIGS
Did you ever dare to let go? To give in the pig inside?
Chapter 6: THE MOTHER OF THE FLYING ASSHOLES
A message channeled through an anal medium. Open your ears.
SECOND PART
THE SUPREME ANAL COURT
For those who like it a little more extreme.
whipsassesspankthepolicefistfuckputinandtrumphomoeroticqueerju
dgmentdaysexworkershooksneedlesbloodsuspensionanalcourtcri
mesagainsthumanity
All of it.